This frame will be shipped from our Toronto warehouse.
THE OLTRE XR4 IS A BIKE DRIVEN TO PERFORM. ITS PRECISION HANDLING, COMBINED WITH VIBRATION-CANCELLING BIANCHI CV SYSTEM, PROVIDES INCOMPARABLE CONTROL. PERFECT POWER TRANSFER MEANS EVERY WATT YOU PUSH THROUGH THE PEDALS TAKES YOU CLOSER TO THE WIN. IF YOU WANT IT BAD ENOUGH, THE OLTRE XR4 IS THE TOOL TO TAKE YOU TO THE TOP.
CUTTING EDGE OF AERODYNAMICS
Oltre XR4 is designed with advanced CFD (Computational Fluid Dynamics) simulation software to predict the impact of aerodynamic drag and is wind tunnel tested.
FLOW VISUALIZATION
A special fluorescent paint (borrowed form F1 Car design) is flown over the frame and fork's surfaces at race speed. The interpretation of their trace patterns and intensity reveal the aerodynamic performance of every aspect.
AERO HEADTUBE
Tapered headtube takes inspiration from Aquila CV aero profiles and is designed to integrate the aero handlebar and the headset.
Bianchi has developed two different top cup for Vision Metron5D handlebar and conventional stems.
AERO SEATPOST
Aero seatpost with integrated look and adjustable head clamp offset 25mm or -10mm.
ENGINEERED WITH BIANCHI CV SYSTEM
Oltre is engineered with the Bianchi CV System to cancel the road vibration. The result is in a smooth ride and a racer who can stay focused in his fastest, most efficient aerodynamic position for longer.
Bianchi CV system cancels 80% of road vibration thanks to the use of a unique composite material integrated in Bianchi's high-performance carbon frames and forks. The Bianchi CV vibration cancelling system combines viscoelastic material together with a special carbon fiber architecture to dissipate vibration.
Advantages for the rider are more control, less muscle fatigue and more energy.
TESTED IN EVERY RACE SITUATIONS
Traditional passive damping in frames using superficial rubber inserts and isolators are marginally effective compared to the integrated vibration cancelling system developed by Bianchi for cycling and proven in the extreme conditions.
MAKE IT SPECIAL WITH TAVOLOZZA
TAILOR-MADE PROGRAM
Bianchi Tavolozza is the exclusive web color configurator available for Bianchi CV models engineered with Countervail® vibration cancelling technology. All frames personalized with Tavolozza color configurator, including graphics and logos, are hand-painted and decaled in Italy by expert craftsmen, combining Bianchi's timeless skills of tailoring together with advanced technologies.
BIKE TECH SPECS
SIZES

440 470 500 530 550 570 590 610

FRAME

OLTRE XR4 CARBON W/BIANCHI CV, MECHANICAL/ELECTRONIC SHIFTING COMPATIBLE, HEADSET 1.1/8">1.1/4", DIRECT MOUNT BRAKES, BB PRESSFIT 86,5X41MM, SIZES 47-50-53-55-57-59-61CM

FORK

BIANCHI FULL CARBON AERO W/BIANCHI CV, 1.1/8>1.1/4"

HEADSET

FSA ORBIT C-33, 1.1/8"-1.1/4", W/CARBON CUSTOM TOP CAP FOR NORMAL STEM

SEATPOST

OLTRE FULL CARBON AERO, CLAMP WITH ALLOY HEAD ADJUSTABLE AND REVERSIBLE +/- 35MM; LENGTH: 250MM-47CM, 300MM-50/53CM, 350MM-55/59CM, 380MM-61CM, SETBACK 25MM/+10MM
BIKE MEASUREMENTS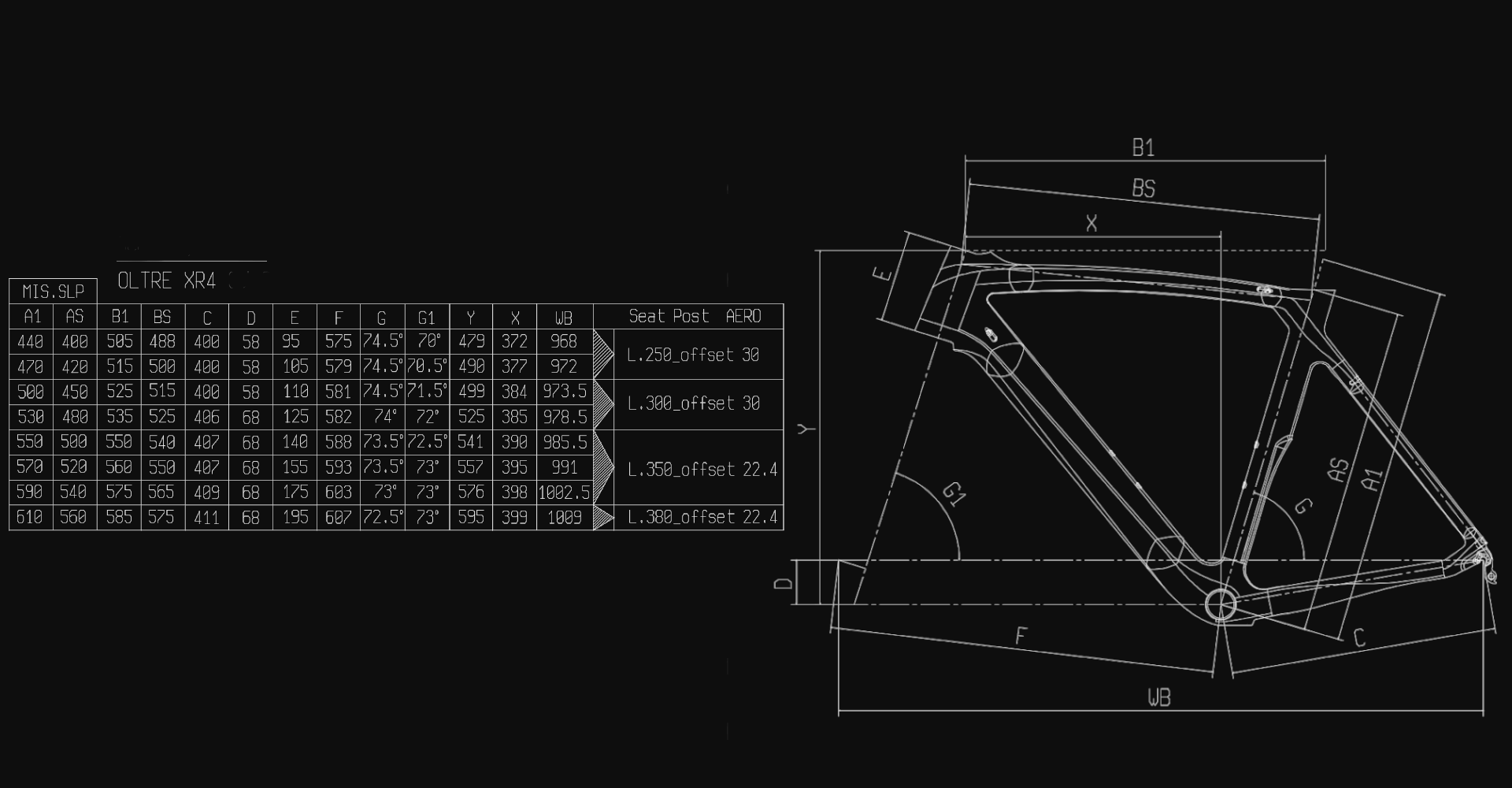 ---